4/21
The first CUI webinar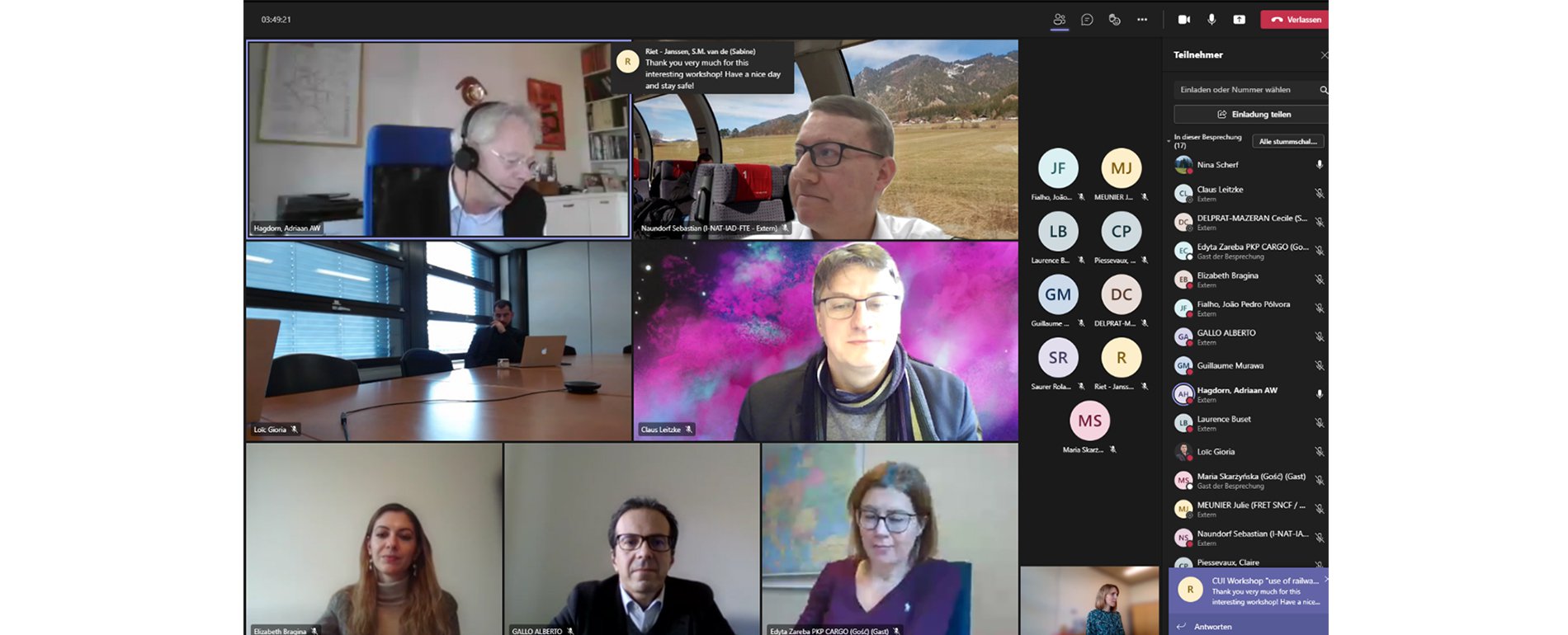 The CIT has held its first webinar on the topic "use of railway infrastructure". It was the perfect opportunity to learn more about the legal relationship between Railway Undertakings and Infrastructure Managers.
Introduction
The topic "Use of railway infrastructure" between Railway Undertakings and Infrastructure Managers is underdeveloped from a legal point of view and is hardly harmonized across Europe.
The webinar therefore provided an ideal platform to address and discuss the relevant legal issues.
Webinar overview
The webinar started with the most important legal developments that were presented by Elizabeth Bragina from CER. In her presentation she focused on the TEN-T Regulation revision as well as on the revision of the Rail Freight Corridors Regulation. Participants of the webinar were given a clear explanation of what can change during the revision process and what the expected next steps are.
The presentation was followed by some interesting case law highlights given by the Chair of the CUI Committee, Adriaan Hagdorn. He outlined a wealth of national but also European and international decisions to the participants.
Afterwards, the joint RNE and CIT work on standardised documents in the sector was presented. During the last years, RNE and the CIT joined forces to draft an European Standard Contract of use of railway infrastructure. During the webinar, the legal background as well as its practical use between Railway Undertakings and Infrastructure Managers was explained. It was particularly appreciated that the Head of Legal Matters of RNE Joint Office, Elisabeth Hochhold, presented the topic together with the CIT representative, Nina Scherf.
One part of the webinar was then dedicated to the "TTR" project. Some time ago, the organisations RNE and FTE started the redesign of the International Timetabling Process (TTR). "TTR for Smart Capacity Management" is a project to simplify, unify, and solidify improvements to the European rail timetabling system. The status of this complex and forward-looking project as well as the related legal challenges were jointly presented by Sebastian Naundorf as TTR Programme Deputy Leader and Alberto Gallo (Vice-Chair of the CUI Committee).
Another part of the webinar focused on the question of liability between Railway Undertakings and Infrastructure Managers in international and national, German law. Here, the question is, under what circumstances a right of recourse exists between the parties concerning damages for which the other party is responsible. This complex question was very instructive presented by Claus Leitzke (DB).
At the end of the webinar a discussion on how - from a legal perspective - contracts of infrastructure use may be classified took place. Here, Martino Limoncello, Law Student, gave a profound legal analysis and participants asked him to continue researching this topic and to present the results during one of the next occasions.
The presentations are available on the CIT-Homepage.